Product Design And Industrialization
Weidmann Medical Technology creates innovative  solutions in tooling, injection molding and automation with the internal know-how and highly specialized industrial partners. In the process, we rely on our own decades of experience in part development and manufacturing.
Complex Requirements And Cost-Effective Implementation
In the process of industrialization of system solutions, we depend on a multitude of technologies:
Rapid Prototyping, Rapid Tooling, 3D Printing, Molds, mechanical machining
Multi-cavity tooling, multicomponent molding (up to 3), insert-molding
Chemical and physical joining technologies (glueing and welding)
Semi-and fully-automatic assembly lines with qualified in-line vision control systems
Various printing and labeling technologies such as thermotransfer, stamping or pad-printing, laser- and inkjet-printing
In-line und off-line primary packaging (thermoforming, etc.)
Manual und fully-automated secondary packaging systems
Innovation In Injection-Molding
Weidmann Medical Technology is specialized in innovative injection-molded components, created through know-how in product, tooling and automation development as well as the application of advanced molding process, assembly and packaging technologies.
Investment In The Future
Weidmann Medical Technology is deeply involved in the research and development of new and highly specialized processes and technologies:
In- and over-molding of RFID's and electronic sensors for NFC technology
Process integration of cannulae and needles for the pharmaceutical industry
Replication of injection-molded micro- and nanostructures for fluidic applications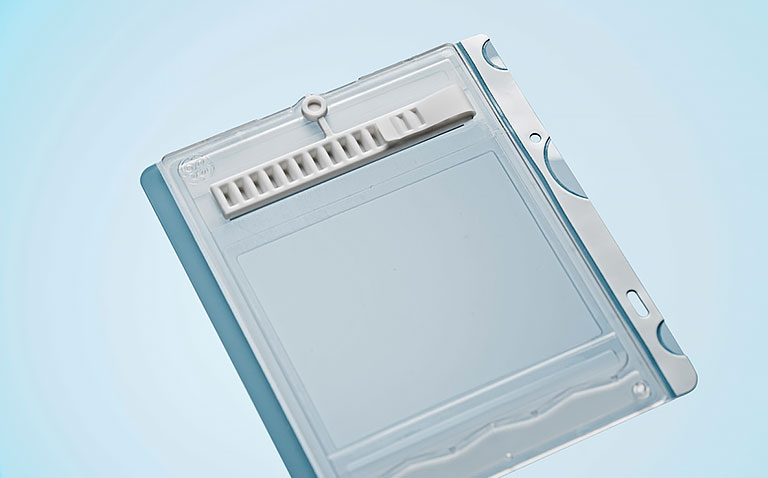 GelCard
Electrophoresis-Gel-Card, multicomponent plastic part with septum and pull-strip container closure, media-sealed via a multilayer film.
Material: >COC<, TPE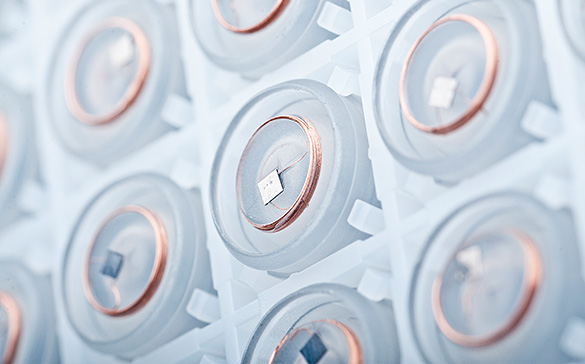 Injection-Molded RFID/NFC
Weidmann Medical Technology has developed a manufacturing technology with which RFID-Tags und Chips can be partially or completely encased in plastic resin.  This allows traceability of shipments and their contents of disposable materials, an item of ever-increasing importance in order to follow the stringent guidelines of the FDA, for example.