Internationally Established
Weidmann Medical Technology industrializes complex manufacturing processes quickly and thoroughly thanks to modern production technologies and long-standing know-how in insert technology for lancets, cannulae and other types of inserts.
With over 30 years' experience in joining technologies for thermoplastics, we count among the leading enterprises in supplying the international Life Science industry.
Custom Made Components
Weidmann Medical Technology develops fully-automated high-speed assembly lines, 100% in-line camera quality controls, plastic welding, in-line bagging and deep-drawn blister packaging, as well as various barcode and labeling solutions.
One Single Operation
Weidmann Medical Technology's multicomponent molding technology combines several plastics with different characteristics in one single operation.
Product design
Weidmann Medical Technology supports you in all steps of product development and in parallel creates the User Requirement Specification (URS), the Risk Management Documentation (FMEAs), as well as the Design History Files together with your team.
From a simple hand sketch, through concept studies, product creation and design, rapid tooling and prototyping to raw material selection, cavity design, tool manufacture and process development, we use the most modern technologies such as 3-D modelling via CAD-CAM, Moldflow Analysis, and static and dynamic calculations for part and tooling layouts.
Industrialization
After the URS is approved, the products are developed, produced and industrialized by Weidmann Medical Technology according to cGMP guidelines. Our production technologies and control systems assure complete reproducibility in the entire production process. Through the application of the most modern injection molding and automation technologies, we develop production processes using a combination of elastomers and non-elastomers.
Process validation
All qualifications- (DQ,IQ,OQ,PQ) and validation processes conform to ISO 13485 and have been certified by the DQS Agency since 2003. Weidmann Medical Technology was audited by the FDA to the CFR820 standard and has been FDA-registered since 2013.  All Cmk, Cpk-, Cp, and AQL requirements are fulfilled.
Final packaging and logistics
A flexible ERP and Supply Chain Management System enables an optimal logistical structure with both centralized and local production. The supply chain is constantly monitored by active controlling with regard to quality and supply assurance, and optimized by our Supplier Managers.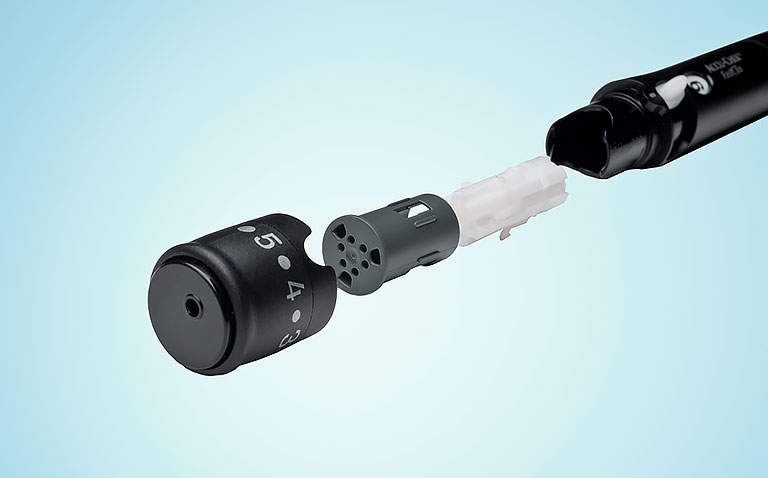 FastClix®
Lancet System for diabetics composed of 22 individual parts. A combination of multicomponent molding and insert-molding technologies in one single tool. Fully-automated, high-speed assembly with 100% vision control of every production step.
Lancet outer diameter: 0.3 mm / 30 Gauge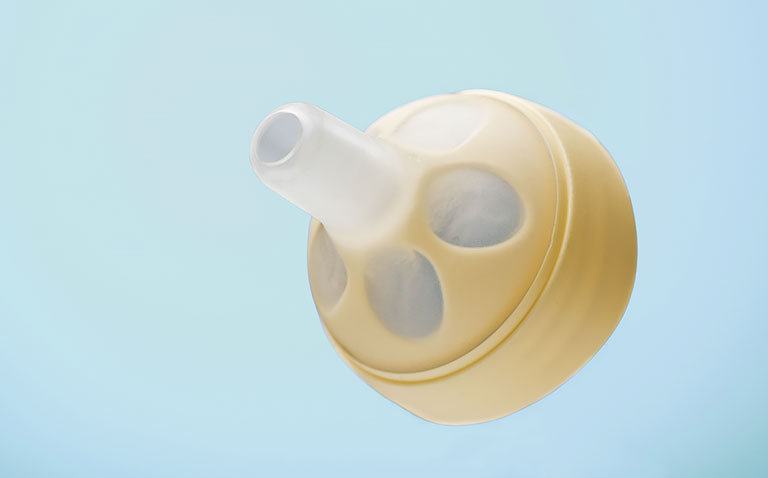 Calmita® / Nipple
Multicomponent plastic molding
Innovative, research-based clinical feeding device for premature infants with integrated vacuum-driven valve.
Fully-automated assembly and packaging under clean-room conditions with microbiological monitoring.
Material: TPE + >PP<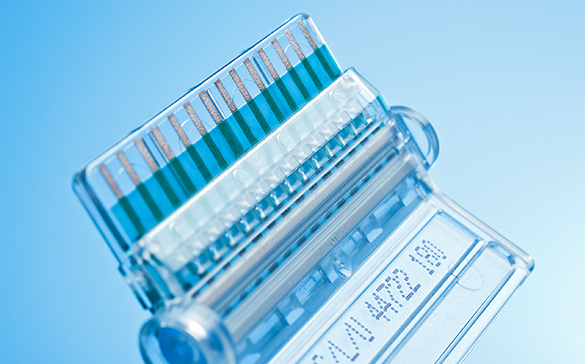 Glucose Sensor
Two-component plastic device with miniaturized sample channel.
Electrochemical sensors are printed onto the plastic parts in a secondary operation.  The components are then assembled media-tight by ultrasonic welding.
Material: >PC<