A Reliable Partner World-Wide For Four Generations
Weidmann Medical Technology has featured safety, reliability and an open company culture for four generations. We are one of the leading, independent Swiss injection molding companies for the Medical Device and Pharma industry. Our focus lies in the development of innovative, technically advanced injection-molded components. Our core competence lies in the conversion of product ideas to industrialized product for international manufacture.
Find important facts and figures about Weidmann Medical at a glance in the Weidmann Medical One Pager US Version or the Weidmann Medical One Pager Europe Version.
Competence In Plastic Injection Molding
Swiss engineering and product design
Clean-room technology to ISO Class 5
Automation, assembly and packaging
Industrialization and scale-up
Quality control via in-line camera systems
High-volume plastic consumables
World-wide organization as part of the Weidmann Group
Plastics Solutions For Life Science
Our production sites with clean-room ISO-Classes 7/8 in Switzerland and Mexico give us an international scope and a healthy growth perspective. Weidmann Medical Technology is part of the Weidmann Group, with operations world-wide.
The Weidmann Group
The Weidmann Group has been one of the world's leading suppliers of technical products and services for more than 140 years. Weidmann Electrical Technology is the world leader in electrical insulation material for transformer manufacturers and users. Their core competence is the development and production of custom-made materials for high-temperature applications and cellulose-based insulation systems.
The Weidmann Group employs over 2,700 persons in some 30 production sites and service centers around the world.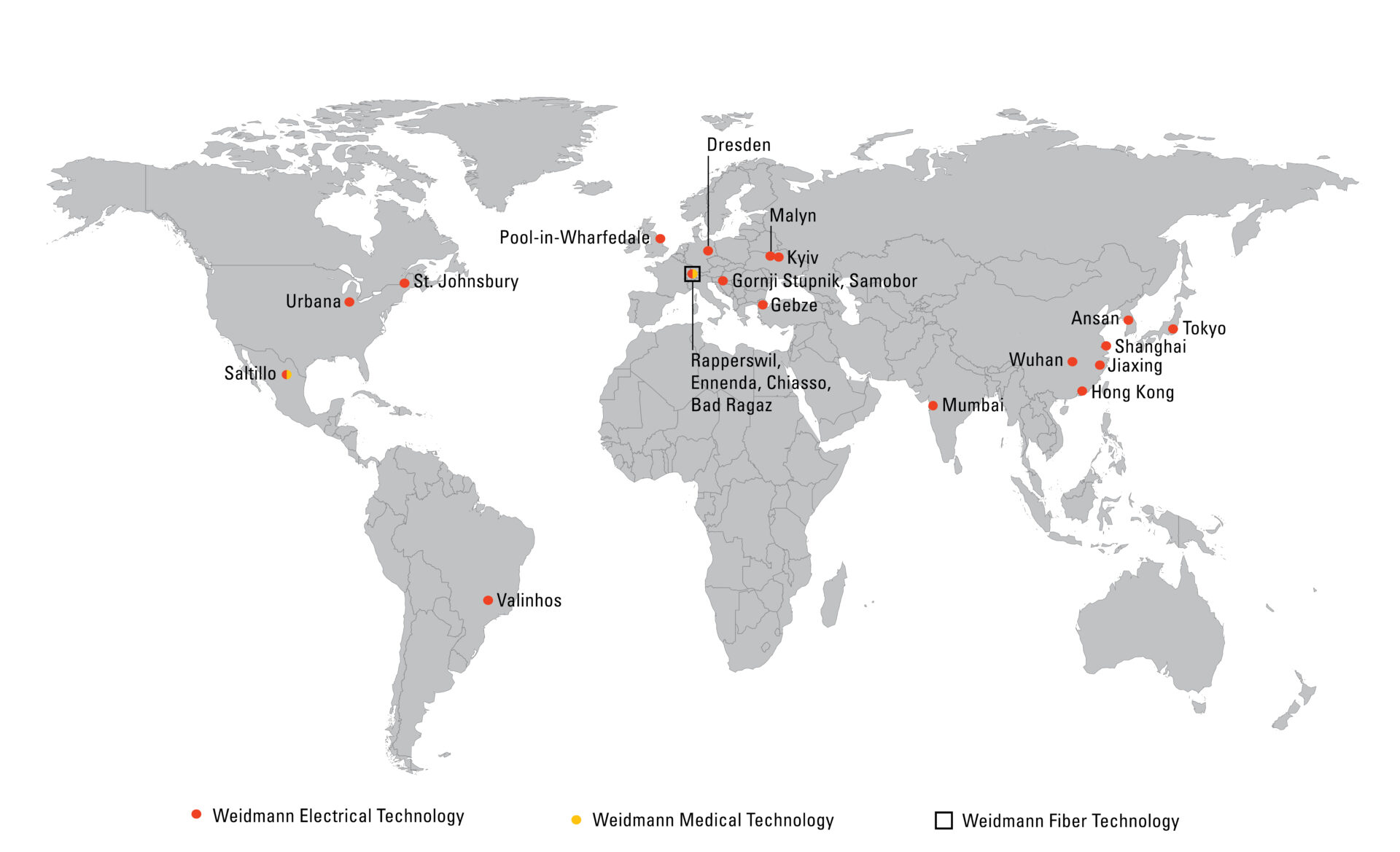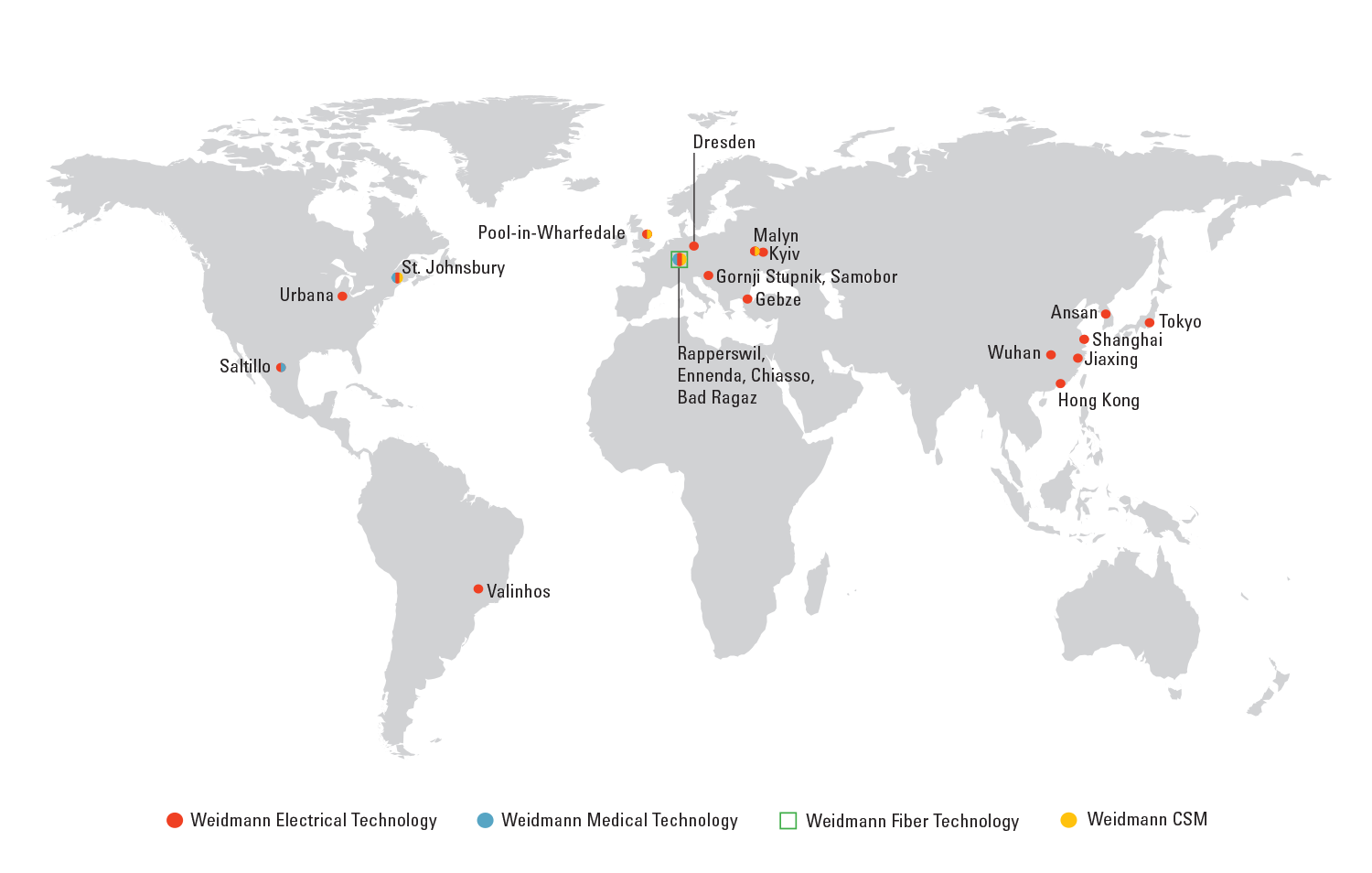 Company History
Franziska Tschudi Sauber, Delegate of the Board of Directors and CEO since 2001, will step down as Chairman of the Board of Directors and focus on the strategic management of the Weidmann Group. In May she hands over responsibility for operational management as CEO to Maximilian Veit, CFO and member of the Executive Board since 2014.
2023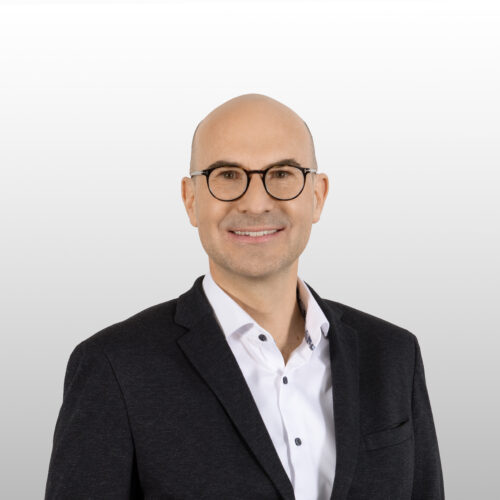 In March 2017, Weidmann Medical Technology North America relocates its production site in record time from Auburn (USA) to Saltillo (Mexico). The production site reaches 35,000ft2 and offers clean rooms ISO class 7.
2017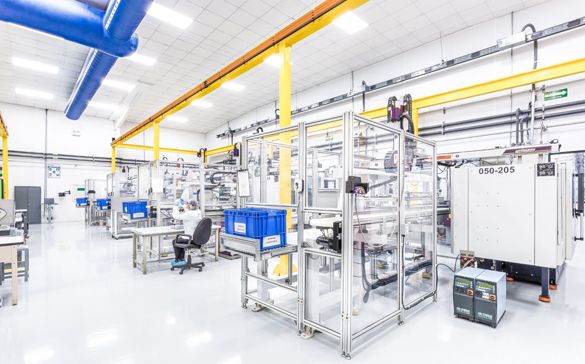 The Medical Business Unit, created in 1998, becomes Weidmann Medical Technology AG, an independent company within the Weidmann Group. The Automotive and Industrial Division is sold to the Techniplas Group, an American company.
2014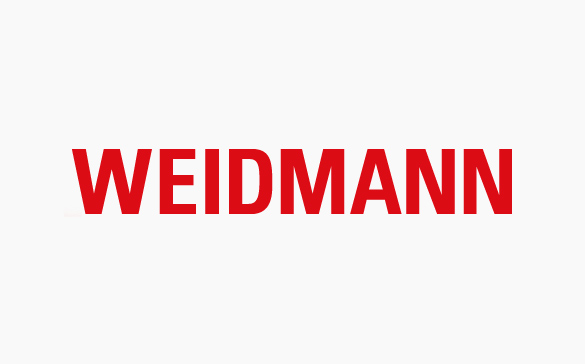 Expansion of the production site of the Medical Division in Bad Ragaz, Switzerland.  The surface of the clean-room production is doubled at this point.
2008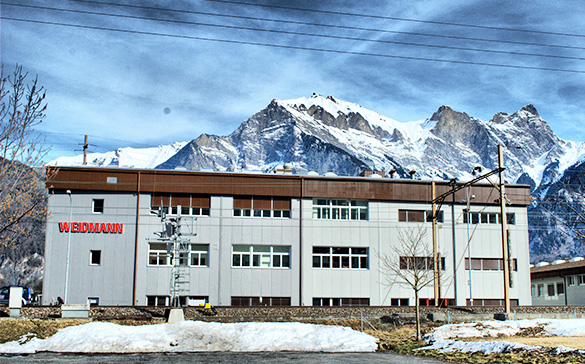 Franziska Tschudi-Sauber takes over the Executive Management of the Weidmann Group from her father.
2001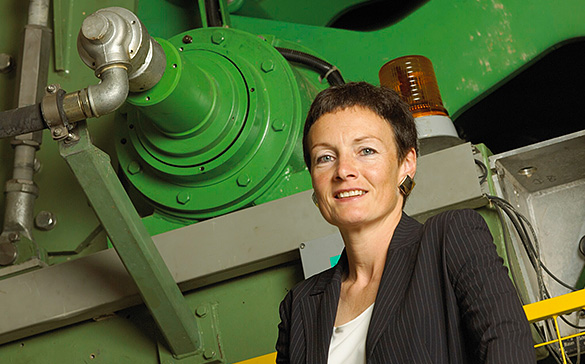 Acquisition of Bruwag AG, Bad Ragaz, Switzerland. Construction of a new manufacturing site with clean-room production for the Medical Division. In 2006 the company is integrated into Weidmann Plastics Technology AG in Rapperswil.
2000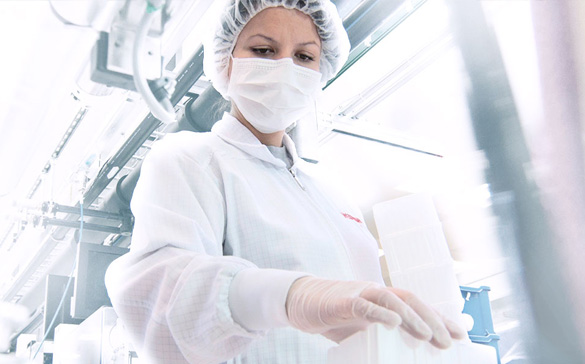 Weidmann Plastics Technology successfully replicates microstructures (nanotechnology) in medical components for analytic and diagnostic applications (Lab On A Chip).
1998
Dr. Felix Tschudi-Hubacher assumes control of the company from his Father.  Tschudi & Cie AG is integrated into Weidmann. Convinced that exports from Switzerland alone cannot cover the growing world-wide customer demand, Felix Tschudi begins an ambitious program of international expansion of the Weidmann Business Unit High-Tension Insulation (later Electrical Technology).
1968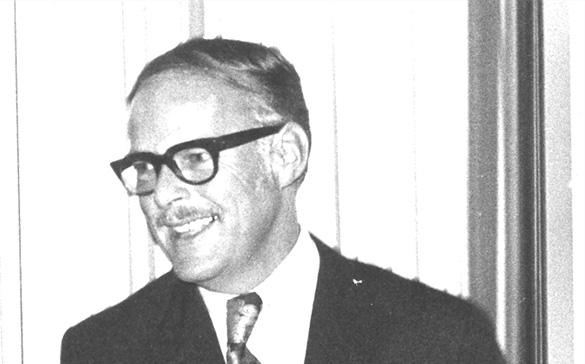 Hans Tschudi travels to the USA to take possession of the first injection-molding system.
1948
Due to the collapse of exports of high-tension insulation material due to the onset of the Second World War, Weidmann survives thanks to its activities in Plastics Technology. Plastic components, considered replacement materials, are especially sought after for gun-barrels and telephone housings.
1939-45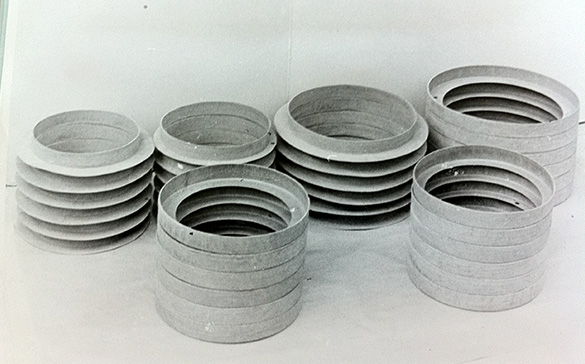 Jean Tschudi's son Hans Tschudi-Faude, a paper engineer, is entrusted with the necessary restructuring of the company. He positions H. Weidmann AG as a first-class supplier of specialty boards based on cellulose, and components for the transformer industry (ultimately Weidmann Electrical Technology). He also begins with the production of die-formed parts in duro- and later thermo-plastic resins for industrial applications (ultimately Weidmann Plastics Technology).
1925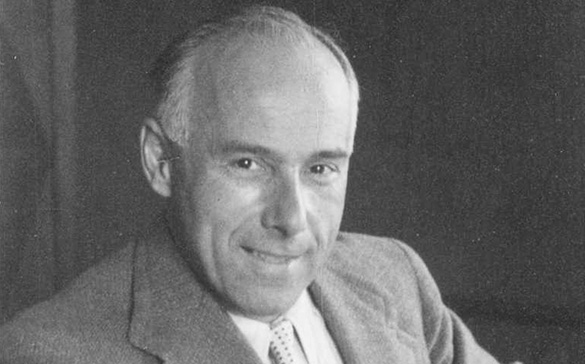 On the edge of bankruptcy, the company is taken over by a financial consortium led by Jean Tschudi-Klaesi, the owner of a small, exclusive board manufacturing company in Ennenda, in the Canton of Glarus. Tschudi & Cie AG manufactures specialty board material for non-electrical applications, especially matrix boards for pressure plates for use in rotational pressure systems.
1923
Heinrich Weidmann acquires the old, water-powered City Mill in Rapperswil, Switzerland. He establishes a press-board and carton company and begins manufacturing insulation materials for the nascent electrical technology industry.
1877