Primary Packaging And Drug Delivery Systems From One Source
Weidmann Medical Technology develops primary packaging for pharmaceutical plastic containers, enclosures for fluid and solid medications with safety components as well as Drug Delivery Systems for international pharmaceutical companies.
From part and tooling design through prototype development, tool manufacture, quality control and testing to packaging and Supply Chain Management: You, our customers, receive it all from one source.
Product design
Weidmann Medical Technology supports you in all steps of product development and in parallel creates the User Requirement Specification (URS), the Risk Management Documentation (FMEAs), as well as the Design History Files together with your team.
From a simple hand sketch, through concept studies, product creation and design, rapid tooling and prototyping to raw material selection, cavity design, tool manufacture and process development, we use the most modern technologies such as 3-D modelling via CAD-CAM, Moldflow Analysis, and static and dynamic calculations for part and tooling layouts.
Industrialization
After the URS is approved, the products are developed, produced and industrialized by Weidmann Medical Technology according to cGMP guidelines. Our production technologies and control systems assure complete reproducibility in the entire production process. Through the application of the most modern injection molding and automation technologies, we develop production processes using a combination of elastomers and non-elastomers.
Process validation
All qualifications- (DQ,IQ,OQ,PQ) and validation processes conform to ISO 13485 and have been certified by the DQS Agency since 2003. Weidmann Medical Technology was audited by the FDA to the CFR820 standard and has been FDA-registered since 2013.  All Cmk, Cpk-, Cp, and AQL requirements are fulfilled.
End packaging and logistics
A flexible ERP and Supply Chain Management System enables an optimal logistical structure with both centralized and local production. The supply chain is constantly monitored by active controlling with regard to quality and supply assurance, and optimized by our Supplier Managers.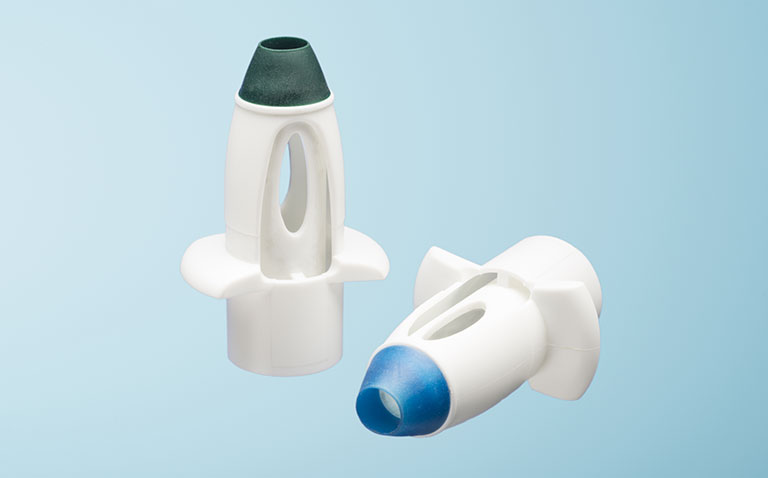 Housing For Self-Injector
Multicomponent molding for self-injector systems.
Soft tip area for user-friendliness.
Material: "ABS/TPE"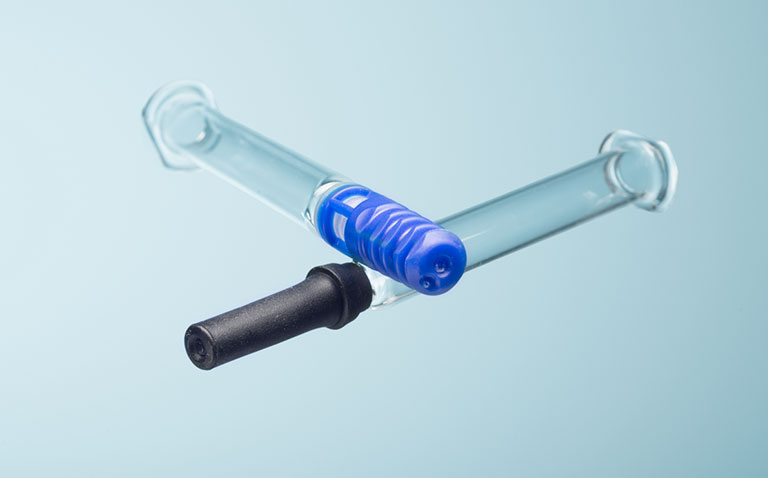 Needle Shield
Anti-Needle Injury Technology: A specially developed "TPE" for a new generation of Needle Shields.
Mass production with highly complex multi-cavity molds.
Material: >ABS/TPE<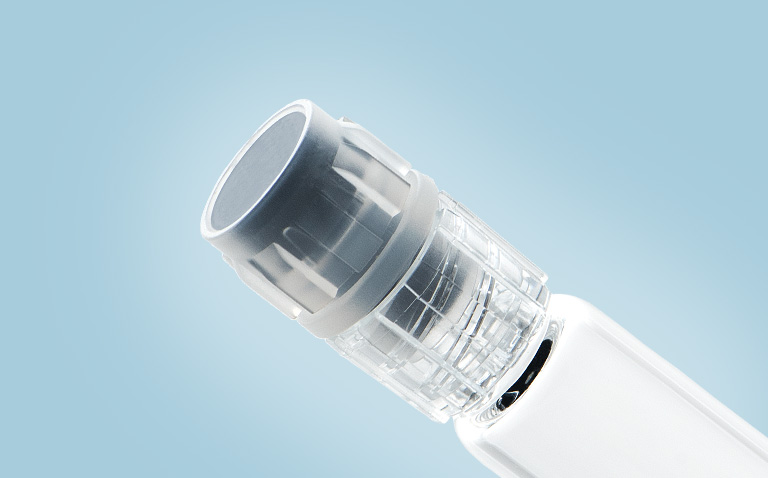 Rigid Cap
Modern, multi-part sealing system for pre-filled syringes with intuitive screw-cap mechanism consisting of Rubber Cap, Rigid Cap and Luer-Lock-Adapter.
Material: Steam-sterilizable >PC<, medical grade >PP<, biocompatible per ISO 10993-1 and USP Plastics Class VI